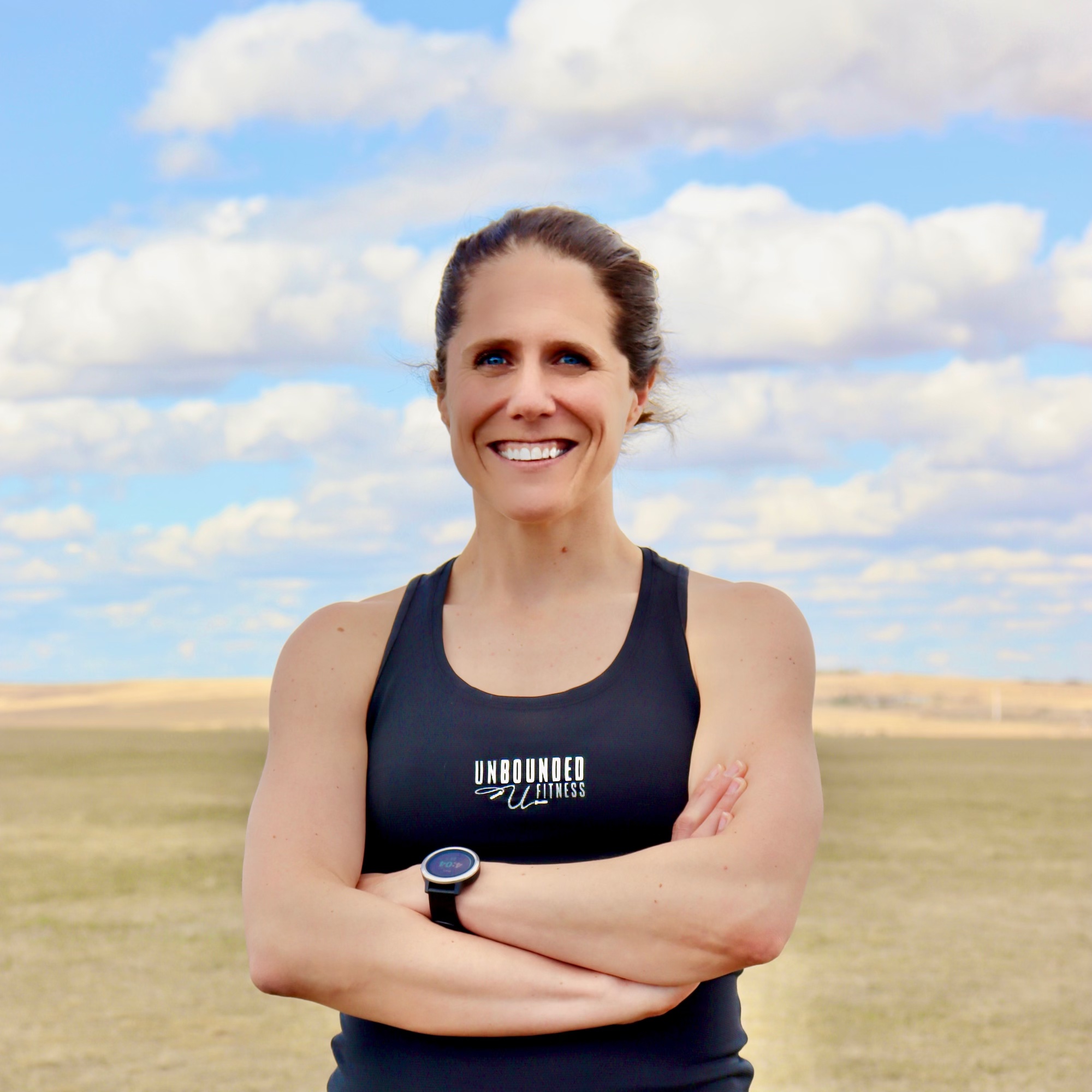 KRISTINA KOWALSKI
OWNER/
KINESIOLOGIST/ CLINICAL EXERCISE PHYSIOLOGIST
kristina@unboundedufitness.com
Services: In-Home or Virtual Personal Training, Online Fitness & Nutrition, Strong Nation Personal Coaching, Beginner Tai Chi, Mobility Classes
Areas of Expertise: Functional Aging, Pain-Free Performance & Mobility, Chronic Disease & Women's Health
I got into competitive sports at a young age. As a child and teenager, if I wasn't on the volleyball court or soccer field or practicing classical guitar, I was out for a run or practicing volleyball skills in our backyard with my twin sister. I was obsessed! Around this age, I fell in love with all things fitness and became very competitive with myself and still am! Unfortunately, at 16 years of age after several back-to-back volleyball practices, I was tired and went for a ball I shouldn't have gone after at the third practice of the night. I jumped up to hit the ball and landed on the diagonal support of the volleyball pole. I blew out my knee  – completely tearing my ACL, tearing my MCL, and badly damaging my lateral and medial meniscus!! Despite this injury and surgery, I went on to play Varsity volleyball and played beach volleyball, my first love, throughout my 20s. I never thought I would love running if I wasn't chasing a ball, but in my late 20s, I found a new passion, triathlon, where half ironmans and cycling are my favourite distance and discipline.
I've recently turned 40 and I have continued to be very active, absolutely love heavy lifting, a good sweat and an intense workout, along with peaceful active moments like Tai Chi, hiking, and leisurely walks with my dogs and partner. My knee problems resurfaced in the last 3 years and in the summer of 2020 I had a high tibial osteotomy (HTO), medial and lateral meniscectomy, and repair of an avulsion fracture of my semimembranosus tendon, experienced muscle atrophy and lost 15 lbs I didn't need to lose. I've been working to build muscle and put the weight back on ever since and am progressing extremely well.  I like to tell my story of knee injury to those around me because if it weren't for my high fitness level and approach to strength training, I'd be in more pain and struggling more. I've been told by several specialists that I recovered from the HTO better than they have ever seen. My original injury led me to pursue Exercise Sciences in school. It fueled my passion to help people in pain and has also really helped me identify with people with injury and although I have the knee of someone much older than me, I choose to lead an unbounded life and reach for my goals. I do so by modifying my exercises and approach to better manage my evolving injury and to prevent further injury.
In 2014, I completed a Ph.D. in Exercise Science and Psychology, where my research focused on exercise and cognitive health for older adults. I have a passion for helping non-gym goers of ALL shapes, sizes, fitness levels, and ages reach their health and fitness goals. I  am dedicated to helping individuals with chronic disease and promoting active aging. I love helping older adults maintain function and mobility and preserve/promote their cognitive and physical health as they age. I firmly believe that age is just a number, that exercise is medicine and that exercise is for everyone – it is never too late to get moving and improve your fitness and quality of life. Nothing makes me smile more than when my clients put this philosophy and mindset into action in their own fitness journey.  I approach my job with energy and enthusiasm and a love for fitness and helping others lead healthy lives. 
When off work, I enjoy time with my partner, Amir,  and our two dogs, and all things fitness and outdoors. My fitness routine involves weight training, cycling, high-intensity tempo training, mobility work, and tai chi. I love cooking, puzzles, country music, and movies.
Education/Credentials:
Read more

Honours B.Sc. in Kinesiology and Psychology, University of Waterloo

M.Sc. in Clinical Neuropsychology, University of Victoria

Ph.D. in Exercise Science and Psychology, University of Victoria

Post-doctoral research fellowship, McGill University (mTBI/concussion research)
Post-doctoral research fellowship, University of Calgary (mTBI/concussion research)

CSEP Clinical Exercise Physiologist, Canadian Society of Exercise Physiology

Professional Kinesiologist, Alberta Kinesiology Association/Canadian Kinesiology Alliance

Certified Functional Aging Specialist & Group Functional Aging Spcialist, the Functional Aging Institute

PR-TOA Certified, Progressive Resistance Training the Older Adult, Be Stronger Fitness
Certified Pain-Free Performance Specialist
Strong Nation (Formerly Strong by Zumba) Instructor, Strong Nation

Certified Online Trainer, Online Trainer Academy

CSEP High-Performance Specialist,

Canadian Society of Exercise Physiology

Older Adult & Group Exercise Specialty Leader, with Portable Equipment Designation, AFLCA

TRX Suspension Training, Qualified Instructor, TRX

Trained Community Coach, Triathlon, National Coaching Certification Program

Level 1 Nutrition Coach (PN1), Precision Nutrition

DotFIT Certified Practitioner, DotFIT

Certified Tai Chi Instructor, Open the Door to Tai Chi 

Penalty Box Instructor, Penalty Box

Strong Smart, Redefining Strength

Certified Pre and Postnatal Coach, Coaching & Training Women Academy/Girls Gone Strong

Level 1, Women's Coaching Specialist, Coaching & Training Women Academy/Girls Gone Strong

Training Older Adults with Joint Replacements, Certified, FAI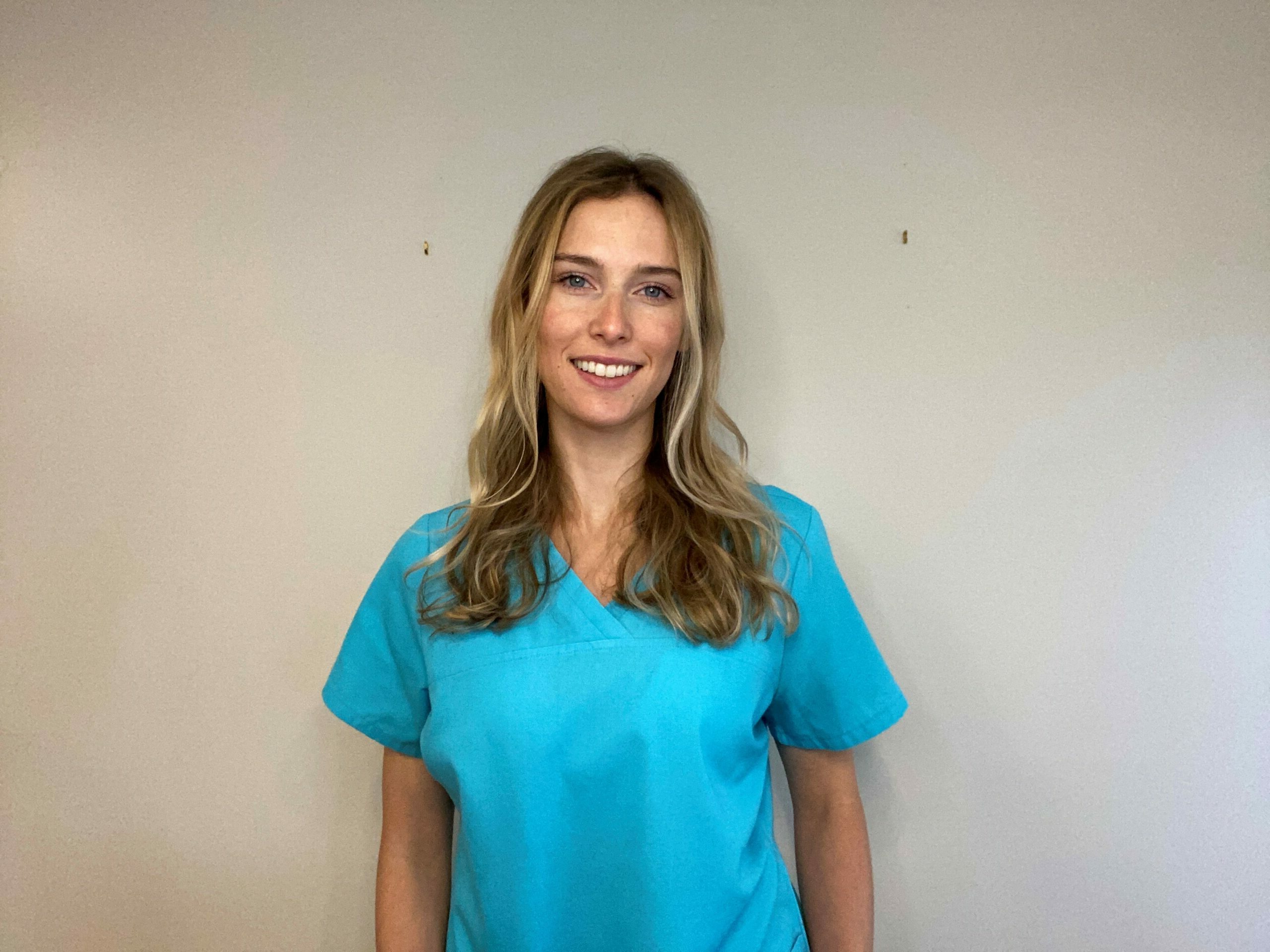 ALEISIA ARKLEY
KINESIOLOGIST
aleisia@unboundedufitness.com
Services Offered: In-Home or Virtual Personal Training, Online Fitness Coaching
Services: Areas of Expertise: Exercise training for chronic disease, older adults, injury recovery, neurological rehabilitation, functional fitness, and foundational training
I am a born and raised Calgarian. My passion for health and wellness stems from my experience in the fashion industry as a teenager, where I witnessed the detrimental effects the media and industry has on body image and physical health. My foundations of fitness and performance come from training in dance and soccer since the age of 3. This was still at a time when we were instructed to push our bodies through pain and to "walk it off" if we were injured. The combination of my performance and work experience was what inspired me to focus my career in exercise and wellness for health-related outcomes. 
In my 5 years of clinical experience working under physical therapists and medical professionals, I have learned the importance of having a team of supportive healthcare providers when managing chronic pain and injury recovery. I aspire to help individuals with their confidence in their abilities and their mind-body connection to build their strongest foundation. I wish to help you build your physical literacy to achieve your goals from a functional standpoint whether that is to be able to get up from a chair comfortably or to run a marathon. 
I focus on supporting you progressively and gradually attaining realistic personal goals. By coaching you, encouraging you, and being your accountability booster every step of the way, I aim to foster your personal motivation. I emphasize the "personal" in personal training, ensuring you learn how to self-monitor your technique and habits.  
One of my philosophies is "exercise in disguise," meaning that if you enjoy what you are doing, whether socially or physically, you are much more likely to keep doing it. This applies to my area of interest of study: Motivation and Deep Green Exercise. Personally, this theory holds true that being in a natural environment improves my mood and sense of enjoyment and it is a growing body of research for mental health and physical activity. For this reason, you may find me in the mountains or in a park playing games!
Education/Credentials:
Professional Kinesiologist, Alberta Kinesiology Association/Canadian Kinesiology Alliance

BSc in Kinesiology, University of Calgary

CSEP CPT and CEP candidate, Canadian Society of Exercise Physiology CHRISTINE MCKENZIE
PERSONAL TRAINER
christine@unboundedufitness.com
I was born and raised in Ontario, but have lived and worked in the United States,
Europe and Western Canada. I was once an athlete and coach in figure skating,
dancing, skeleton, and running, this love of sport and being active allowed me to
pursue a career in personal training with my own business. After some time working in the industry I went back to school in Ontario to attend the Physiotherapist and Occupational Therapy Assistant program. In my final year, I became a mother and graduated a month after giving birth.
In addition to my Diploma, I hold certifications as a personal trainer with CSEP
and am certified with the American Academy of Health, Fitness, and Rehabilitation Professionals as a Medical Exercise Specialist. I am currently working on my certifications in Yoga and more in Pilates rehabilitation.
My volunteer work with disabilities, not-for-profit organizations, being a mother, and my passion for teaching has led me to work with all ages of life. I enjoy creating fun ways to keep people moving and teaching them how important movement is daily to their lives. Providing a better quality and healthier life skills to follow.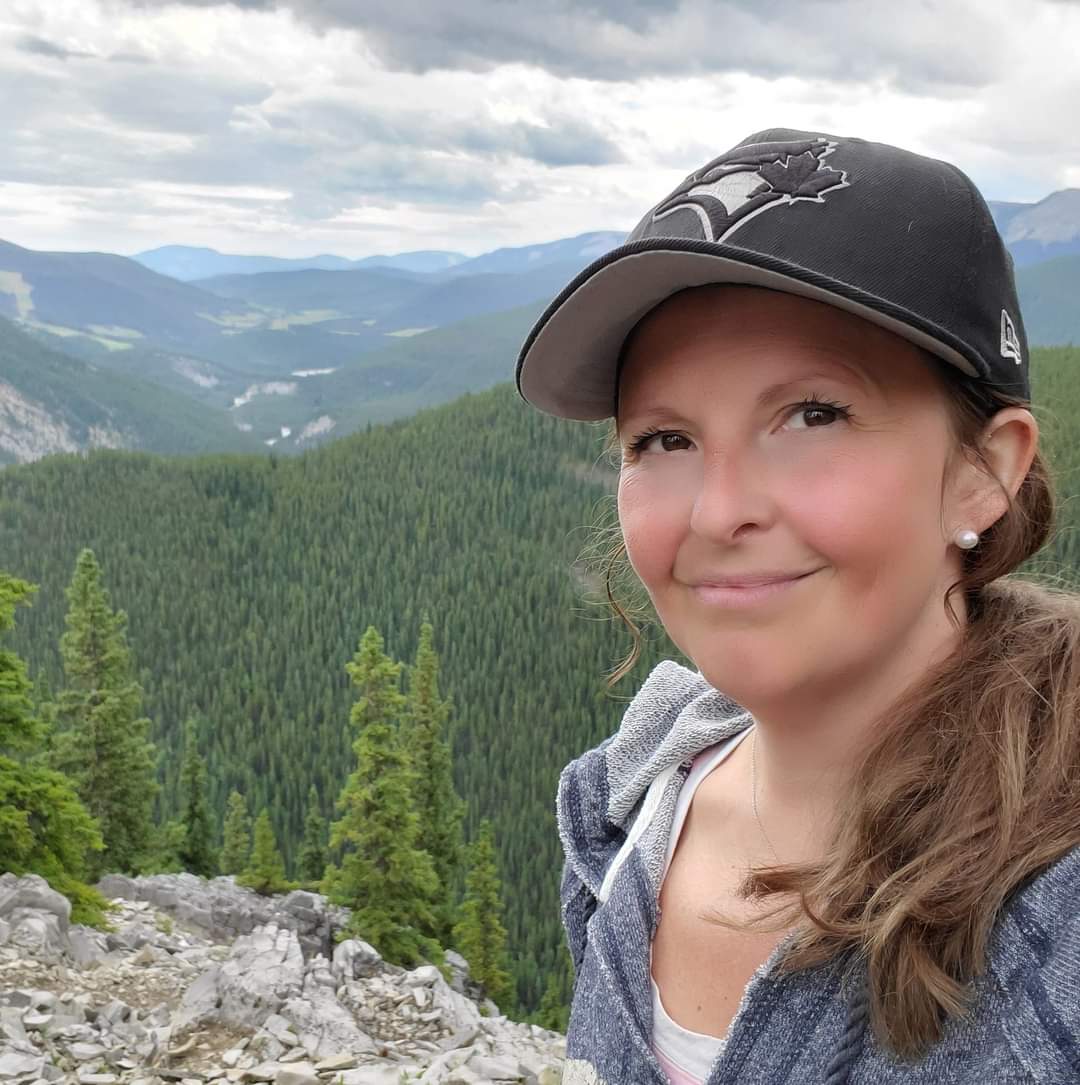 SARA REYNOLDS
PERSONAL TRAINER
sara@unboundedufitness.com
Services Offered: In Home or Virtual Personal Training
Expertise: Functional Fitness, Core & Pelvic Floor Rehab, Perinatal Fitness
Sara comes to the team with more than 10 years of experience as a Personal Trainer and Group Exercise Instructor. She specializes in Functional fitness, Core and Pelvic floor rehabilitation, and Perinatal fitness.  She holds certifications with various governing bodies including ACE, CanFitPro, Functional Movement Systems, the AFLCA, TRX, Girls Gone Strong, Escape Fitness, Fusion Fitness, and many more.
Sara strives to empower clients and improve their health and quality of life; she believes that fitness is not a destination, but the beginning of the journey through a life full of vitality and possibilities.
In her spare time, Sara enjoys running, hiking, and playing outside with her husband and two young children. She also enjoys various art projects, music, and board games.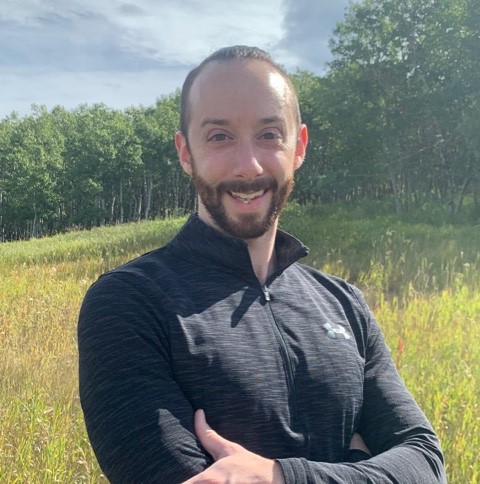 Ben Perdue
Personal trainer
ben@unboundedufitness.com
Services Offered: In-Home or Virtual Personal Training
Area of Expertise: Functional movement, corrective exercise, youth and sports performance training
As far back as I can remember, I've loved naming the bones and muscles in the body. It was always my favorite topic in school, and I took every human anatomy, medical science, and biology course I could. This didn't change as I left high school. At Emmanuel College in Boston, Massachusetts, I spent four years running year-round varsity track and cross country. I continued my education on the track, in the gym, and in the classroom, graduating with a Bachelor's of Science in Biology and a huge box of Coach's Appreciation Awards I have no idea what to do with.
Following graduation, I knew I belonged in a hands-on setting. I started in the surgical intensive care unit at Tuft's Medical Center in Boston, as a fully trained nursing technician. However, I couldn't help but feeling that so much of the suffering I witnessed was avoidable. There were so many injuries, complications and illnesses stemming from lifestyles of personal neglect. I knew I wanted to help others avoid those situations, but it wasn't until two years later that I would begin that phase of my career.
Only a few weeks after a move away from the city, a conversation with a manager of a local gym franchise led to an internship and eventually my first personal training job. It turned out that I had wandered into one of the most successful gyms in the region, and they took pride in educating and developing their coaches. I trained and maintained a large client base for three years, before moving locations to become a Training Director. It was in this role that I started to look deeper into how to ensure a client's success. As the boss, I often took on clients with pain, injuries, or other risks. At one point, a 30 year old client with an awful back injury told me that the previous night he had slept in his bed for the first time in two years. My mind was blown. I could not imagine how his life had been impacted by his pain, and that I had actually helped with what I thought was just a "common sense" training style. This and other similar experiences really lit a fire in me to empower others to overcome their struggles, whether they be weight, pain, stress, or trauma.
I believe deeply in the healing power of movement, and in tailoring training to the individual person in a way that enriches their life. The human body can reprogram, readjust, and adapt to defeat pain and dysfunction. Through positive lifestyle changes, and genuine caring support, anyone can meet their goals. I am so excited to take my knowledge and skills, as I've had time to build, hone and distill them, to the Calgary community. To whomever I encounter, I offer you my best effort, my brainpower, my good nature, and our combined strength to see you accomplish what you didn't know was possible.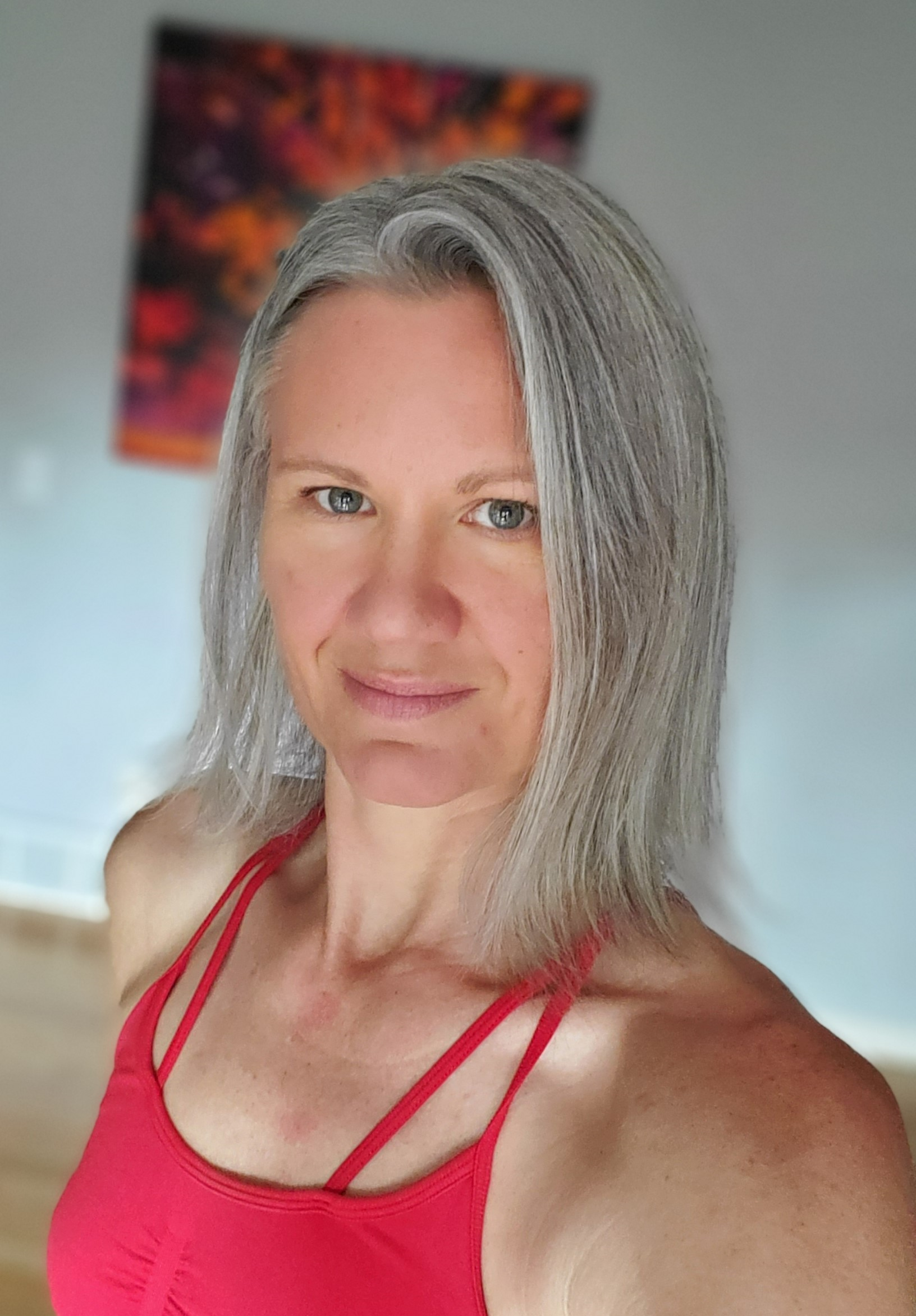 AMBER KYLIUK
KINESIOLOGIST
amber@unboundedufitness.com
Services Offered: In Home or Virtual Personal Training
Areas of Expertise: Chronic Pain Management, Natural Movement (MovNat), Critical Alignment Yoga Therapy, Functional Fitness, and Flash Reflex Training.
Amber joins us through a lifelong movement journey!
Having completed her Kinesiology degree in Winnipeg, she moved to Calgary in 1997. She was quickly introduced to, and began teaching, Ashtanga Yoga along with her personal fitness training.
Always one for adventure, she took up the sport of Skeleton in 2001 and was able to compete with the National Development team for 2 years… this along with a few injuries from her yoga practice led her into learning and training in Critical Alignment Yoga Therapy.
She began experiencing back pain in an exhausting chronic way in 2012 and for the next 7 years, she pursued many avenues of treatment and professionals… Through this time she began to learn and study more about pain science, neuroplasticity, and natural movement fitness. She managed to put all the pieces together for herself, and in 2019 the pain was under control and she was able to fully return back to her loved activities.
In her free time, she enjoys hiking with her partner Jonathan, playing in the playground with her two kids, caring for her household full of pets (2 guinea pigs, a young dog, and a snake), downhill skiing in the winter (she has her CSIA Level 1 Ski Instructor),  listening to CKUA, and attending any live music event available.
But what is Critical Alignment Yoga Therapy and how does that tie into Natural Movement?
This yoga therapy is all about experiencing the mind/body connection and how vital it is to healthy living. Though this yoga therapy focuses on the spine, releasing tension that we hold in our torso/back, and then creating movement to build strength and coordination, it is so much more than that. If you can lay down and breathe, Amber will show you how to start moving and building strong, stable movement patterns. From there she builds on the practical human movements that give the body flexibility, strength, balance, and endurance. You will finish each session with more knowledge of your body, a calm mind, joy from experiencing the freedom of movement… and likely a little tired.
Granted there is a whole lot more to this story… but she wants to hear yours! How did you come to be where you are and how can she help you get back the strength and mobility to enjoy the activities that you love?
Education/Credentials:
Bachelor of Kinesiology, University of Winnipeg
Professional Kinesiologist, Alberta Kinesiology Association/Canadian Kinesiology Alliance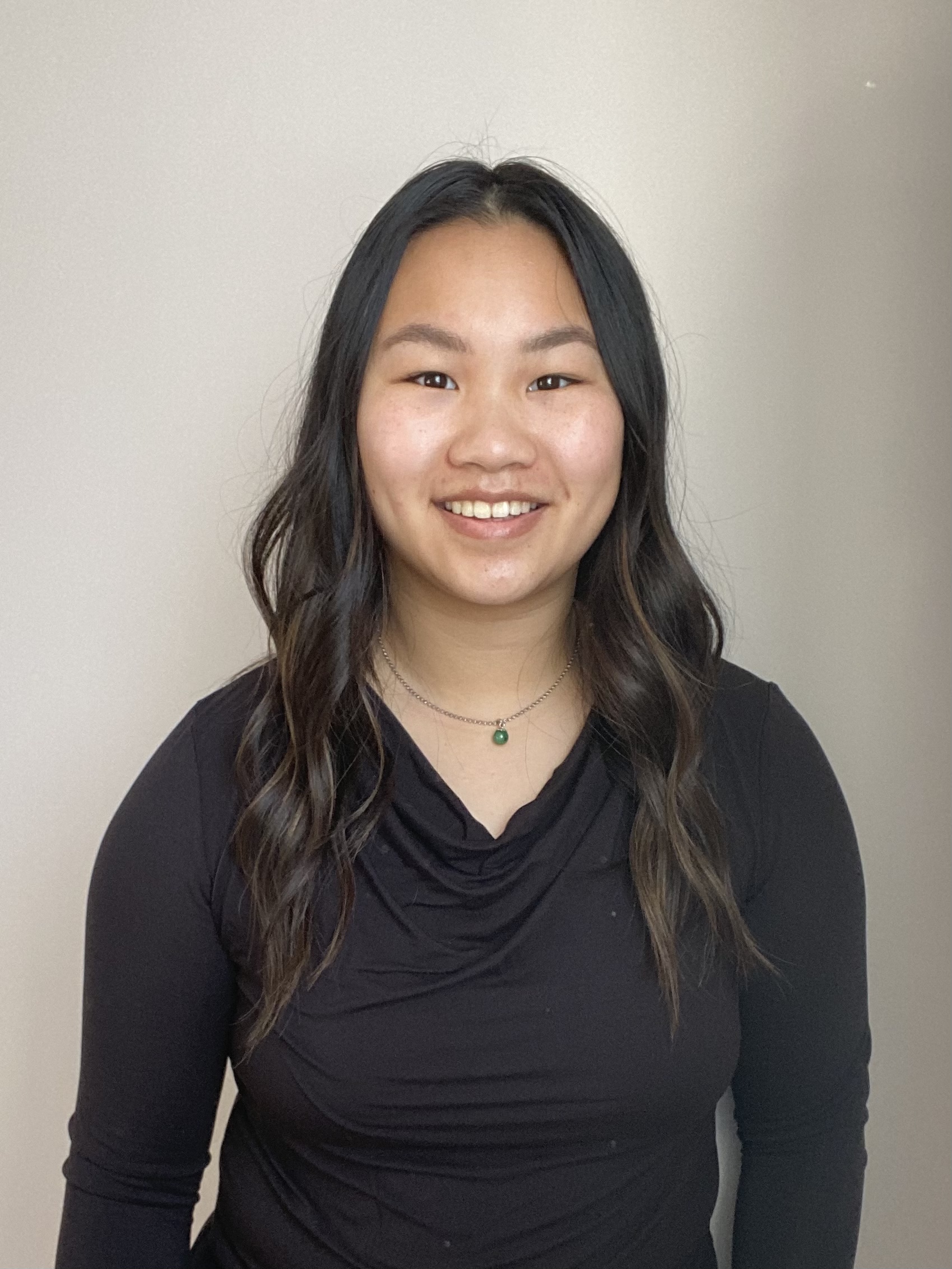 Vicki Luu
KINESIOLOGIST
Kinesiologist
vicki@unboundedufitness.com
Services: In-Home & Virtual Personal Training, Online Fitness Coaching
Areas of Expertise:  Functional Movement, Concussion Symptom Management
My love for movement came at a young age. I started on skates at the age of two, dancing through the years and joining every team sport I could until I was 17.
Through the years, the inevitable injuries spiraled into a love for functional movement and movement as medicine. This led me to the University of Waterloo where I received an Honours BSc in Kinesiology and continued my love for movement as a spin instructor at a local studio in Ontario. This blossomed my love for not only moving my body but also helping my community move.
I previously specialized in concussions, but my biggest takeaway is that the body is one large chain. What you may believe to be a wrist injury, may truthfully begin at the shoulder or your right shoulder injury may in fact be a deficit caused by your left lower back. But until you see and look at the whole picture, you may not know exactly what you have.
Outside of the gym, I love learning new activities or picking up an old skill. Whether it may be hiking to skiing or swimming to golfing, skating, or playing tennis. My favourite thing to do is simply move my body.
Education/Credentials
Honours BSc in Kinesiology, University of Waterloo
CSEP-Clinical Exercise Physiologist Candidate
Kin (Inactive), College of Kinesiologists of Ontario
Professional Kinesiologist, Alberta Kinesiology Association/Canadian Kinesiology Alliance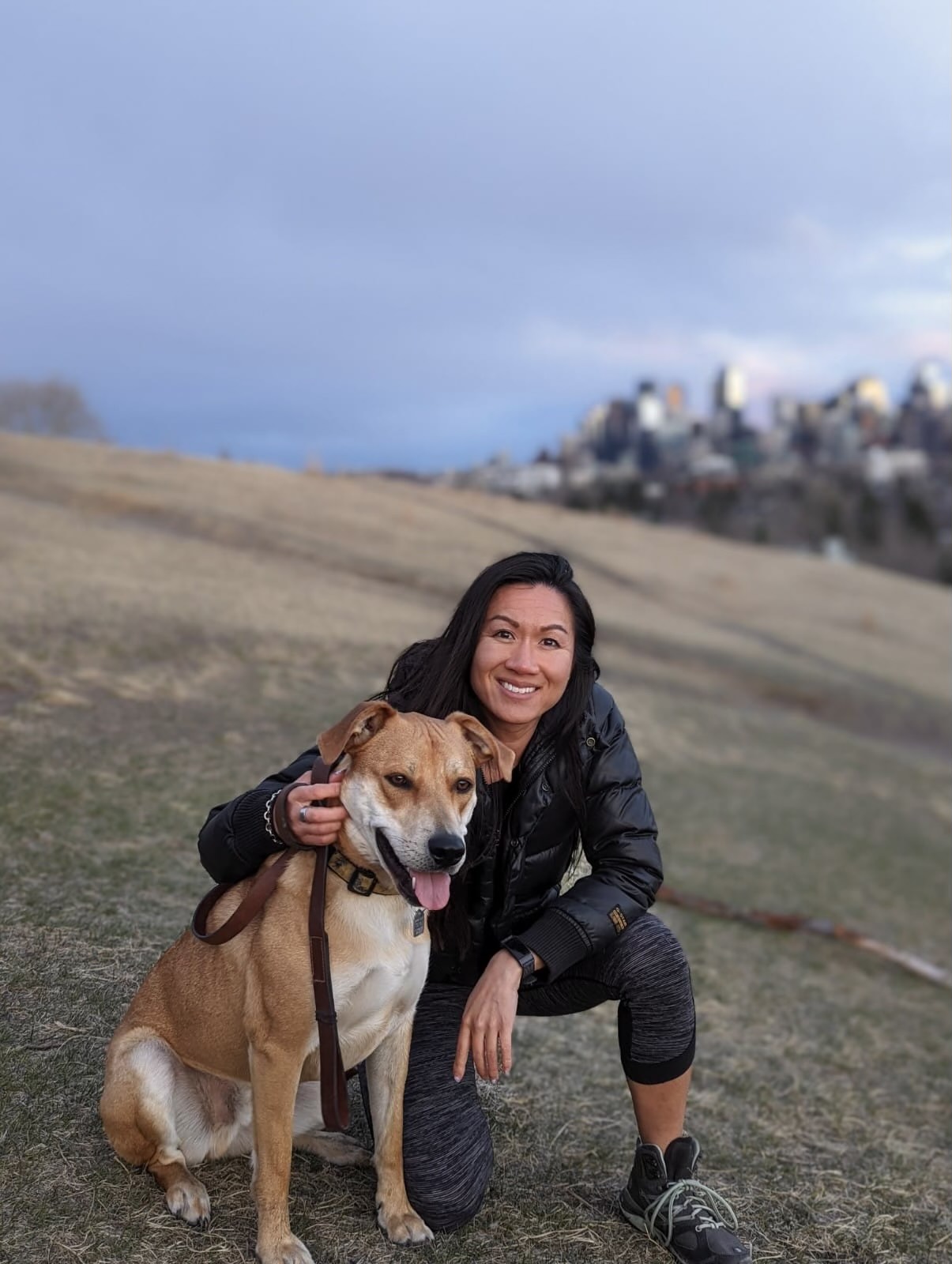 OLIVIA LAU
PERSONAL TRAINER
olivia@unboundedufitness.com
Services Offered: In Home or Virtual Personal Training
Areas of Focus: Functional Strength and Performance Training, Group Fitness
Preoperative Rehabilitation, Post Rehabilitation
Olivia found her calling to health and wellness in 2013, a year after losing her father. She had discovered hot yoga and dedicated herself to a daily disciplined practice. About a year into her practice, she was in the best shape of her life and found that much of the emotional turmoil that she had experienced had subsided. Her practice inspired her to learn more about exercise and its relation to overall health and well-being. So began her journey through university, studying the assessment and rehabilitation of both sporting and non-sport-related injuries. In her second year,
Olivia became a certified yoga teacher in Peru. She obtained her Athletic Therapy degree in 2019 and began her work with clients in Long Term Disability and those who have undergone Chronic Psychological Injury. Olivia has rehabilitated people from all walks of life, from high-level athletes to clients experiencing chronic pain to those in post-cancer rehabilitation. Whether you are looking to get back into shape, rehabilitate an old injury, or improve your posture, Olivia will work with you to create a personal-fit program to get you feeling incredible and confident in the way move.
Education/Credentials:
Bachelor of Health and Physical Education (BHPE) – Athletic Therapy Major
R1-Foundations and Reconditioning
Registered Yoga Teacher with Yoga Alliance (RYT200)
Craniosacral Therapy 1 (CST1)
Craniosacral Therapy 2 (CST2)
First Responder with Basic Life Support (BLS)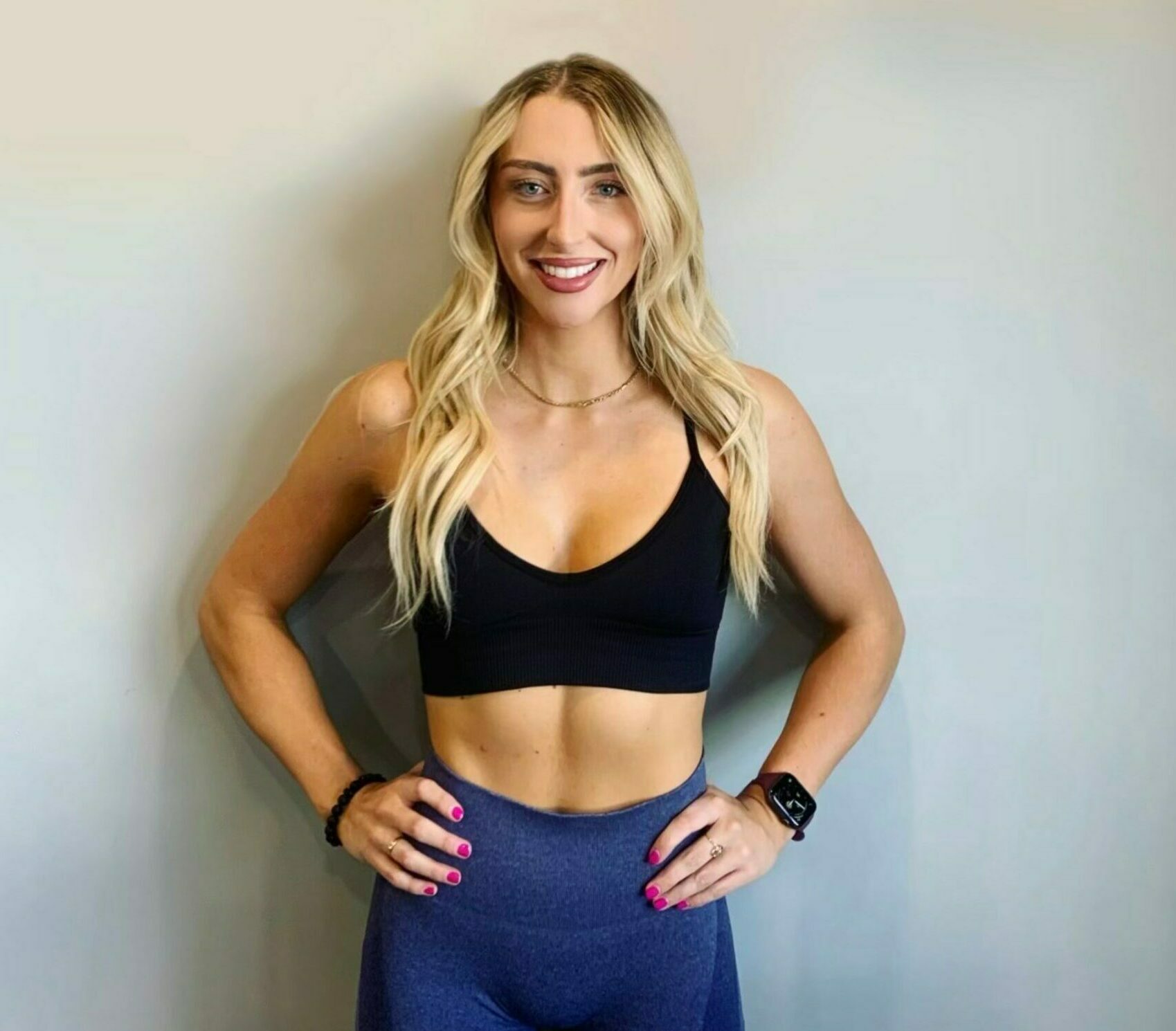 Margo Bangsund
Kinesiologist
margo@unboundedufitness.com
Services: In-Home & Virtual Personal Training, Online Fitness Coaching
Margo graduated from the University of Regina with a Bachelor of Science in Kinesiology. Margo's passion for weight loss, strength training, and functional movement is what guided her to Unbounded U. Prior to joining the team at Unbounded U, Margo worked with a diverse clientele, including cancer and cardiac patients, motor vehicle accident victims, and elite athletes. 
As an athlete and coach, Margo has a wide-spanning background in sports and recreation. Margo worked as a swim coach and figure skating coach for three and six years, respectively. Through these experiences, she acquired a great deal of insight pertaining to the human body and biomechanics from a practical point of view. 
Margo understands the challenge of dedicating time to bettering yourself through exercise and nutrition, as she has always made it a priority in her life. Margo wants to be a positive and encouraging force in the next chapter of your healthier life, no matter how big or small your goals.