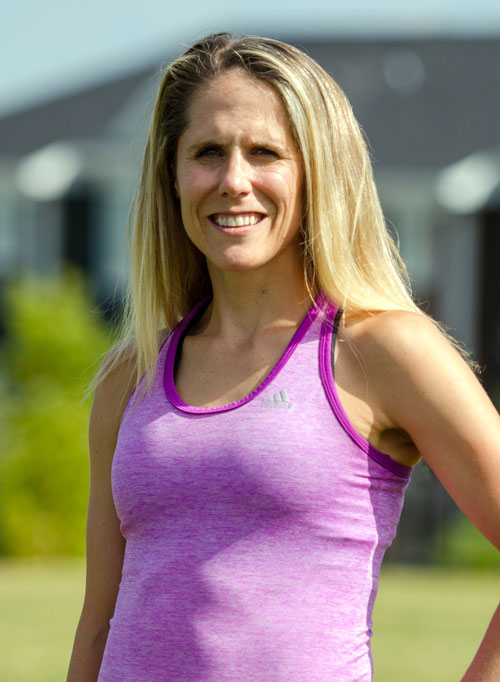 KRISTINA KOWALSKI
OWNER/
PERSONAL TRAINER
I am a professional Kinesiologist, Clinical Exercise Physiologist, Functional Aging Specialist, Level 1 Certified Nutrition Coach, and Certified Pre and Postnatal Coach.  I'm also a licensee of In Home Trainer Calgary, Airdrie, & Okotoks. In 2014, I completed a Ph.D. in Exercise Science and Psychology, where my research focused on exercise for older adults.  I have a passion for helping people of ALL shapes, sizes, fitness levels, and ages reach their health and fitness goals.
I am extremely passionate about helping individuals with chronic disease and promoting active aging. I love helping older adults maintain function and mobility and preserve/promote their cognitive and physical health as they age. As a certified Functional Aging Specialist and Tai Chi Instructor, I incorporate aerobic activity, strength training, and Tai Chi into my programming for older adults. I firmly believe that age is just a number, that exercise is medicine and that exercise is for everyone – it is never too late to get moving and improve your fitness and quality of life. I approach my job with energy and enthusiasm and a love for fitness and helping others lead a healthy life.
I use a variety of approaches to keep things fun and interesting and help clients achieve diverse goals from losing weight, getting stronger, or building muscle to getting more mobile and aging on their terms. These include bodyweight exercise, kettlebell, swiss balls, medicine balls, resistance bands, high-intensity intervals, free weights, penalty boxes, TRX suspension, and rip trainer, and Tai Chi to name a few. I value continued education and staying up to date on health-, fitness- and nutrition-related knowledge and advances, which I use to provide high-quality services to all my clients
When off work, I enjoy time with my partner and our two dogs, running, and all things fitness and outdoors. I love cooking, puzzles, and movies.
Education/Credentials:
B.Sc. in Kinesiology and Psychology, University of Waterloo

M.Sc. in Clinical Neuropsychology, University of Victoria

Ph.D. in Exercise Science and Psychology, University of Victoria

CSEP Clinical Exercise Physiologist, Canadian Society of Exercise Physiology

Professional Kinesiologist, Alberta Kinesiology Association/Canadian Kinesiology Alliance

Certified Functional Aging Specialist, the Functional Aging Institute

Read more

PR-TOA certified, Progressive Resistance Training the Older Adult, Be Stronger Fitness
Certified Pain-Free Performance Specialist
Strong Nation (Formerly Strong by Zumba) Instructor, Strong Nation

Older Adult Fitness Leader, Alberta Fitness Leadership Certification Association

Certified Online Trainer, Online Trainer Academy

Certified Group Fitness Instructor, Alberta Fitness Leadership Certification Association

CSEP High-Performance Specialist,

Canadian Society of Exercise Physiology

TRX Suspension Training, Qualified Instructor, TRX

Trained Community Coach, Triathlon, National Coaching Certification Program

Level 1 Nutrition Coach (PN1), Precision Nutrition

DotFIT Certified Practitioner, DotFIT

Certified Tai Chi Instructor, Open the Door to Tai Chi & the Functional Aging Institute

Penalty Box Instructor, Penalty Box

Strong Smart, Redefining Strength

Certified Pre and Postnatal Coach, Coaching & Training Women Academy/Girls Gone Strong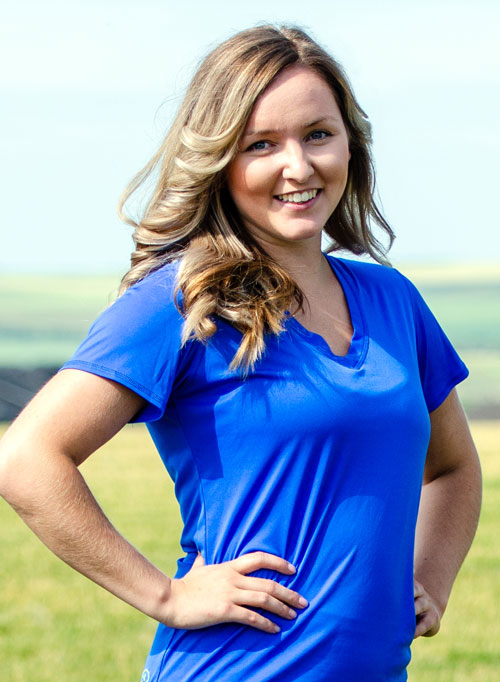 CARLING REES
PERSONAL TRAINER
My passion for movement began at the ripe age of 2 when I was enrolled in ballet classes. Today, my passion still lies in movement; however, my focus has changed from dance to public health & fitness. I graduated from the University of the Fraser Valley where I earned my Bachelor's degree in Kinesiology. While attending classes, I was given the opportunity to work with a varsity women's basketball team as their student trainer. I worked under the head athletic therapist and learned about injury prevention, management, and rehabilitation. Since working with that team, I obtained my license as an emergency medical responder and have gained a wealth of experience working as the athletic trainer for various other sports teams including: football, rugby, lacrosse, and hockey.
My training philosophy is to educate clients to move safely and efficiently, in a fun and judgment-free environment. I teach the 'what', 'how' and 'why' for each movement, which I believe gives the clients knowledge and skills that can be applied to all aspects of daily movement and can be used throughout the rest of their lives.
Outside of the gym, I like finding new, alternative ways to stay active. You may find me anywhere from the top of the ski hill to the circus school twirling on aerial silks. I am a tap dancer, an archer, and having grown up on the west coast, I've always been a sucker for a good mountain view.
Education/Credentials:
BSc in Kinesiology, University of Fraser Valley

Emergency Medical Responder

Certified in Soft Tissue Release

Professional Kinesiologist, Alberta Kinesiology Association/Canadian Kinesiology Alliance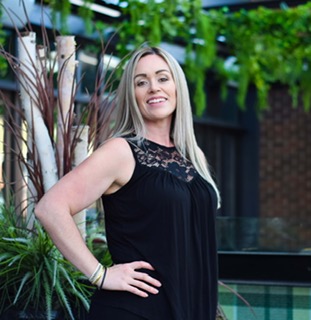 MICHELLE BENNETT
PERSONAL TRAINER
My goal, passion, and who I am to the core is to have a positive impact on the lives of the people I connect and work with. I want to help others become the healthiest, happiest version of themselves. This goes way beyond how you may want to look, it's also about how you feel, and helping you make positive changes to your mindset, performance, and lifestyle. Overall wellness in my opinion is not for a season, it is for life!
I personally fell in love with fitness at the age of 16 when I joined my first gym. I grew up in an active household watching my parents dedicate time to their health and fitness, which led me to take an interest in my own wellness. I played soccer and loved to move my body, in any way I could. With that said though, I have had personal struggles with my weight and body image that I have had to work through over the years. All of this ignited the passion within me, to learn how to help others in their own fitness & wellness journeys.
In 2008 I completed my Exercise & Wellness Diploma at Camosun College in Victoria, BC, and obtained my certified personal trainer designation. I then completed my internship with a local indoor/outdoor fitness and personal training company who then hired me on when my internship completed. At the same time, I also worked as a personal trainer at a women's only gym where I learned a lot about gyms and the business side of things.
My husband and I then decided to start a family and make a move to Calgary. I am now a busy mom of 3. In 2017, I started an online wellness business where I get to help people with their health and wellness goals. I have also worked at the Calgary YMCA as a personal trainer and group fitness instructor, where I obtained their Personal Training Certification.
When I am not busy working I am spending time with my family, & friends, enjoying the outdoors, running, cooking, and just enjoying the good life!
I am so grateful to be a part of team Unbounded U Fitness and I look forward to working with so many of you.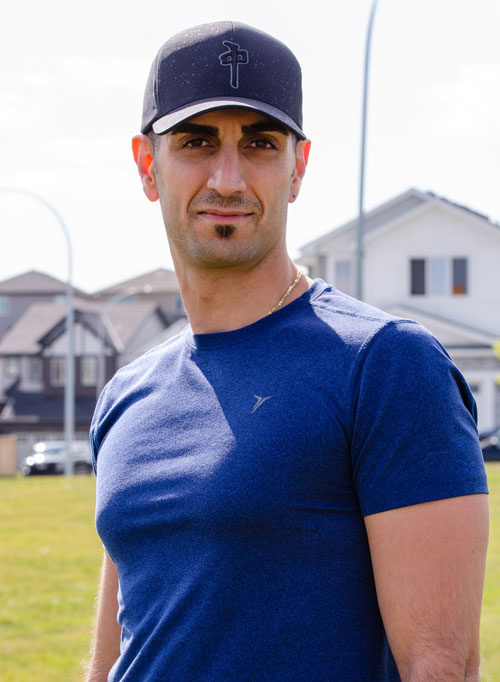 I am Kristina's right-hand man and partner in life. I help Unbounded U Fitness with administrative tasks and sales on a part-time basis. I have an extensive background in sales. For my full-time work, I work in Occupational Health and Safety in the oil and gas sector and have a passion for keeping people healthy and safe in the workplace.
For fun, I enjoy an active lifestyle with Kristina and our 2 dogs, Xavier and Niko. I love cars, cooking, and traveling.
Credentials
BSc in Microbiology, Islamic Azad University Tehran North Branch

MSc in Microbiology, Islamic Azad University Tehran North Branch

Occupational Health and Safety Certificate, University of New Brunswick